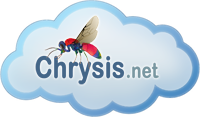 08 January 2013
Chrysis.net website has migrated from a physical server to a cloud of shared resources
Recent and significant innovations in virtualization and distributed computing have allowed cloud computing to become a more commonly offered service and type of hosting.
Cloud computing uses a network which is based on large groups of servers. These groups are setup with specialized connections which allow data-processing chores to be spread across those servers. Cloud computing allows for these newer types of virtualization techniques to be used in order to maximize the power of cloud computing and provide an almost no fail redundancy.
We are sure that, after an obvious adjustment phase, this kind of solution will improve the site's performance.
Gian Luca Agnoli
For citation purposes
Agnoli G.L. & Rosa P., Chrysis.net website, interim version 19-Aug-2013 , URL: http://www.chrysis.net/.